Features and Benefits of EP Accreditation
EP Supports Your Process Improvement Efforts.
Quality Metric Options: Those facilities implementing an EP Accreditation program, may choose either the AFib Ablation Registry™ or the EP Device Implant Registry™ or the LAAO Registry™ to support quality metrics.
Clinical Quality Measure Options: EP also utilizes NCDR Registry® data to support clinical decisions. Facilities already participating in one of the following four NCDR hospital registries will be positioned to rapidly focus on performance improvement efforts.
EP Device Implant Registry™
AFib Ablation Registry™
LAAO Registry™
IMPACT Registry® (for pediatrics)
In addition to the noted NCDR registries, other nationally-recognized data registries and hospital quality committee approved, facility-specific dashboards are acceptable data sources for EP accreditation. EP accreditation links process improvement to patient outcomes and promotes consistent processes across the care continuum.
The Essential Components of Electrophysiology Accreditation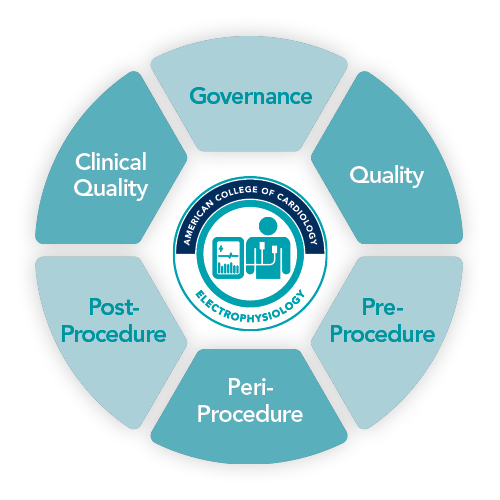 Governance: Optimization of the organizational platform to align dedicated personnel, operational program model, staff education, and service alignment.
Quality: Continuous process improvement of all aspects of care.
Pre-Procedure: Dedicated to the evaluation of risk and readiness assessment through multidisciplinary screening processes and protocols to ensure the electrophysiology procedure is as safe and effective as possible.
Peri-Procedure: Focused on interdisciplinary care coordination and communication surrounding sedation, infection control, radiation safety, and universal timeout protocols.
Post-Procedure: Protocols and policies for appropriate hand off, site management, patient and family communication and education, and discharge instructions to promote recovery.
Clinical Quality: Process improvement initiatives derived from outcomes and metrics related to the facility.