Heart Failure Accreditation Features and Benefits
Accreditation improves the clinical processes for the early assessment, diagnosis, treatment, and follow-up care for heart failure patients. ACC Heart Failure accredited hospitals have attained proficiency in caring for their heart failure patients and providing valuable resources within the community to help manage the disease. By adopting the ACC HF accreditation standards and committing to the implementation of process improvement methodologies, your facility will have the ability to:
Reduce variations of care
Enhance throughput and lower length of stay
Sustain process improvement initiatives
Decrease readmissions and maximize reimbursements
Increase patient satisfaction
What's Covered: an overview of Heart Failure Accreditation; the burden of heart failure; how Heart Failure Accreditation helps you meet the needs of your facility and communities; and the benefits of Heart Failure Accreditation.
---
ACC's approach to Heart Failure (HF) Accreditation is radically different from other organizations within the healthcare industry that establish specification requirements and measure compliance.

ACC takes a collaborative approach by providing feedback, education and resources to assist the facility in addressing gaps and improving processes.Partnering with your care team, the ACC experienced staff of accreditation review specialists have guided hundreds of hospitals towards achieving accreditation.

Using measures aligned with the latest guidelines — HF Accreditation provides actionable data to support more informed clinical decisions. Through the Accreditation tool you can focus on:
Calculated Measures for the care of your HF population
Key performance metrics to track quality of care and identify opportunities for improvement
Operational measures associated with patient outcomes and organizational performance
Greater collaboration and partnership between the entire multidisciplinary HF care team
---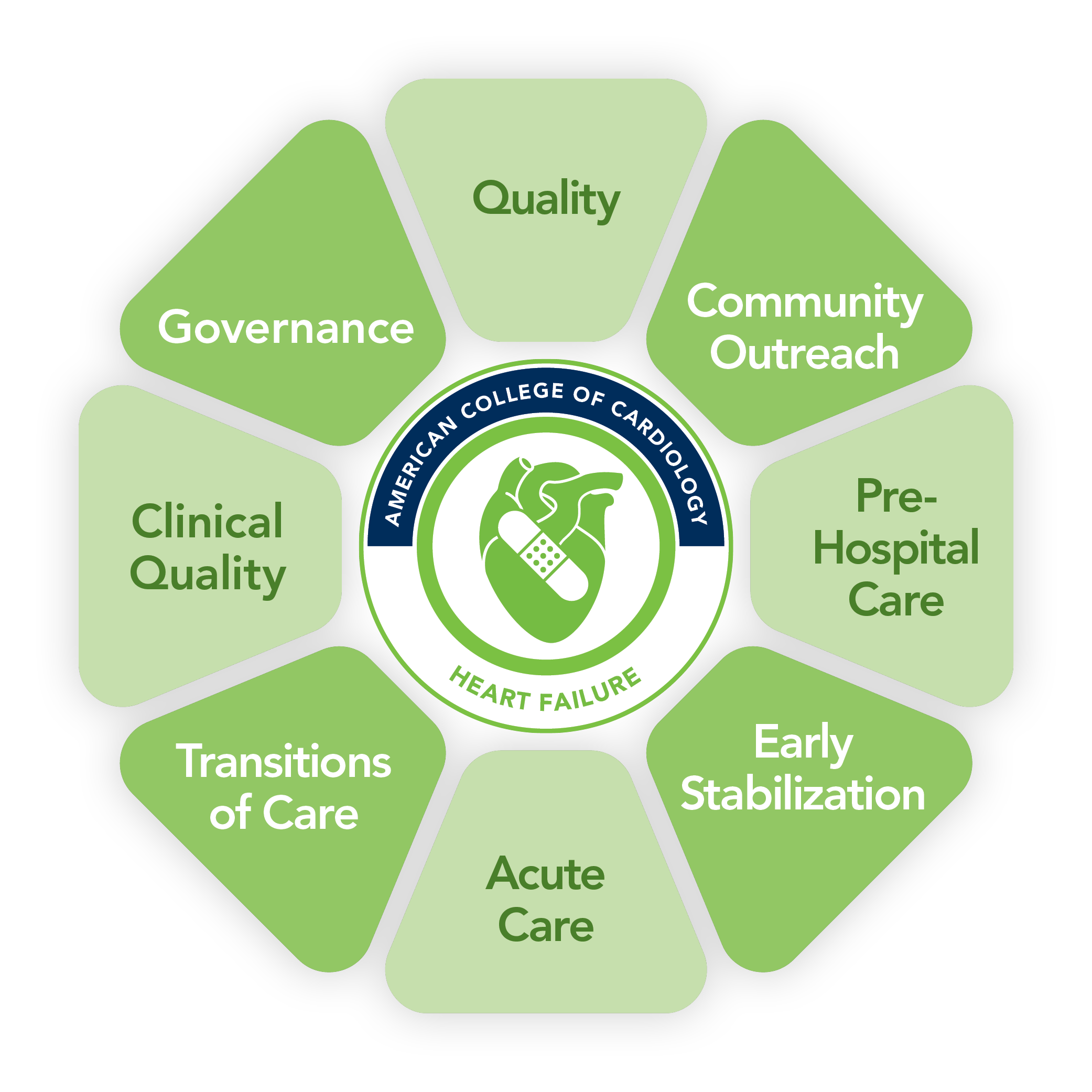 To help you reach your accreditation and quality improvement objectives, the HF accreditation requirements are organized into process improvement efforts across eight essential components:
Governance: Establish a multi-disciplinary committee with executive support to provide orchestration of HF program operations, clinical oversight, and provide education to meet the needs of providers and staff.
Quality: Integrates continuous improvement of all aspects of care.
Community Outreach: Increase community awareness and affect behavior with education, website content, public service announcements, and partnerships with local businesses, employers, and healthcare providers.
Pre-Hospital Care: Integrate out-of-hospital interventions delivered by community healthcare providers and first responders.
Early Stabilization: Speed diagnosis and treatment to mitigate life-threatening conditions. Improve risk stratification and patient flow, including those in the observation setting.
Acute Care: Employ a multidisciplinary, patient-centric approach from admission through discharge.
Transitions of Care: Prevent unnecessary readmissions with established care coordination at discharge, including early follow-up care and patient/family education.
Clinical Quality Measures: Track the entire process from patient presentation through discharge and follow-up care.
---
Tracking quality improvement metrics related to the care of HF patients provides valuable insight into outcomes and helps guide strategies and establish goals for the care of various HF cohorts.

To reduce data burden, facilities have the option of utilizing:
1) The Accreditation Conformance Database (ACD) within the HF tool
2) HF national/regional database or registry reports
3) HF specific facility generated reports

This flexibility allows facilities to adopt a strategy that meets the demands of the required data abstraction and collection to ensure continuous process improvement.

The ACD of the online HF Accreditation tool only captures the data that measures adherence to HF clinical practice guideline recommendations and performance standards. The required data elements are all linked to automated quality and performance metrics for the purposes of achieving HF Accreditation. Through this streamlined approach, facilities will have the ability to concentrate their efforts on process improvement efforts and the delivery of care needed at the bedside.

Although, minimal data is collected, the HF ACD and metrics still provide the following benefits:
access to the patient level data you need to implement directed interventions
designed for clinicians by clinicians, HF ACD keeps patient flow at the center of data aggregation
provides metrics with drill-down capability
---
A sustainable and comprehensive strategy to process and quality improvement is your blueprint for a successful accreditation. Accreditation provides a foundation for promoting long-term and optimal value for the delivery of healthcare services to patients. By ensuring all personnel and departments speak the same language and use the most up to-date protocols and policies, you enhance efficiencies and eliminate variations in patient care. Consequently, you're able to improve patient outcomes and financial performance. HF Accreditation helps your facility:
Streamline patient care to ensure continuous positive clinical trajectory and throughput to reduce the length of stay
Inclusion of updated guideline directed medical therapies, resources, and shared practices
Identification of patients eligible for cardiac rehab and advanced therapies
Build collaborative relationships with pre-hospital and post-discharge providers
Enhanced transitions of care models to detect precipitants and reduce risk of readmission
---

---