The Value of Process Improvement
Key to improved hospital operations and transitions of care are the techniques associated with process improvement. Striving to achieve optimal metrics and sustain quality is an on-going effort. It begins by identifying the processes used by your facility. It requires an understanding of "change" and the ability to accept that change is inevitable. It anticipates that a more efficient practice may encounter some friction prior to acceptance. There will continually be new research that translates into improved methods of caring for patients. The need to stay abreast of these changes in order to improve patient outcomes is a necessity. Learn more about the factors that our customers and leaders have identified as key to improved hospital operations and transitions of care.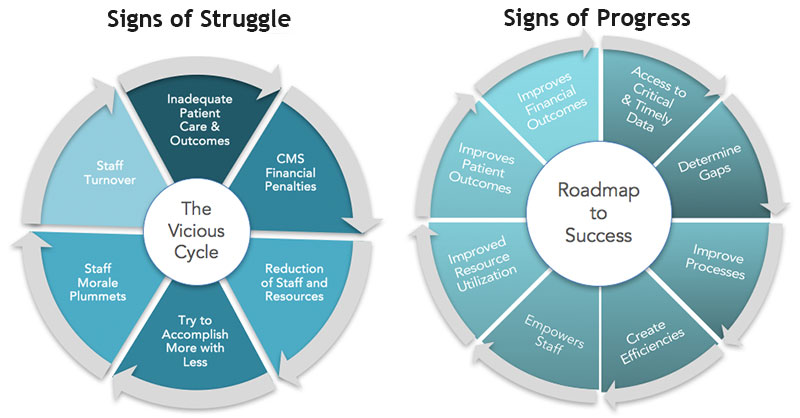 ---
Facilities that have earned accreditation are boosting patient outcomes while improving their bottom line. Time and again, cost of care has been decidedly reduced by the accurate diagnosis and treatment of patients seen at facilities that have elevated their cardiovascular services through the insights gained in the accreditation process.
Wondering what tools exist to disrupt the variance of care that delays early assessment, diagnosis and treatment of acute coronary syndrome, heart failure and atrial fibrillation? Wondering how to put your facility on the path toward exceptional performance?
The key is the adoption of process improvement techniques and the implementation of best practices found in the Accreditation Services offered through the American College of Cardiology.
It is not uncommon for ACC Accredited facilities to report significant and quantifiable results:
Improved patient outcomes — resulting in fewer readmissions — frequently as much as 20% or better
Strengthened position in the community — netting higher ED patient volumes — often as high as 10%
Increased revenues and decreased cost associated with criteria that rewards for better outcomes such as shorter Length-of-Stay — in many cases as much as 25%
According to Centers for Medicare & Medicaid Services (CMS):
Most of the $110 billion in projected funding cuts that will occur by 2019 will be cuts meant to decrease Medicare reimbursements administered through a variety of reform programs, including the Hospital Value-Based Purchasing Program (VBP).
With the number of baby boomers adding to the Medicare and Medicaid costs, hospitals will see 60-70 percent of their reimbursement coming from Medicare by the year 2030.
That means that even for small hospitals where revenues are minimally affected by Medicare reimbursements today, the pending decrease in employer and private payer cross-subsidization of Medicare and Medicaid as well as baby boomers aging into Medicare, hospitals will see 60-70 percent of their reimbursement coming from Medicare by the year 2030.
Also, according to CMS, the Patient Experience of Care (or Patient Satisfaction), is measured by the following criteria: A random sample of patients discharged from hospitals across the country are surveyed and asked questions regarding their feelings and perceptions about their hospital stay. This measure combines hospital performance on questions that asked patients their levels of satisfaction with some of the following elements of their stay:
How well nurses communicated with patients
How well doctors communicated with patients
How responsive hospital staff were to patients' needs
How well caregivers managed patients' pain
How well caregivers explained patients' medications to them
How clean and quiet the hospital was
How well caregivers explained the steps patients and families need to take to care for themselves outside of the hospital (i.e., discharge instructions)
Our Team Approach helps clinicians evaluate and assess their facility's mechanisms for identifying, streamlining, and improving all of the procedures related to patient safety, clinical workflows, and delivery of CV care. This team approach encourages peers to envision and embrace a better way.
Accreditation will give your hospital the framework and guidance to bridge gaps, reduce the variances of care, accelerate the adoption of guidelines, update old protocols, identify and streamline interlinked processes, and makes changes that will result in quality improvement. The benefits to the facility that accomplishes accreditation are many. They can include streamlining patient throughput, resulting in a reduction in the time it takes for patients to receive treatment, and decreasing costs by providing efficient and effective care that is void of duplication and waste. Process Improvement allows for consistent training and education, improves patient satisfaction, decreases liability exposure and improves work performance.
American College of Cardiology's Suite of Cardiovascular Data Registries help hospitals further measure and improve the quality of care they provide. The National Cardiovascular Data Registry consists of eight hospital-based registries and two outpatient registries.
The often repeated adage, "If you cannot measure it, you cannot improve it" applies. The ACC registries offer the most relevant data elements and metrics, actionable reports, voluntary public reporting and other opportunities to do even more with your data through quality improvement programs. NCDR registries cover a wide range of clinical topics and cardiovascular procedures, with each registry featuring standardized, evidence-based data elements and definitions. Options for data collection vary based on your setting.