The Ultimate Reward for Quality Patient Care
Every day, you demonstrate your commitment to world-class cardiovascular care through comprehensive process improvement, disease and procedure-specific accreditation, professional excellence, and community engagement. It's hard work and it deserves recognition. ACC, the professional home for your cardiovascular team, honors those forward-thinking institutions that advance the cause of sustainable quality improvement with a prestigious national distinction of excellence.
HeartCARE Center information sheet.
Watch this brief video to learn what it takes to become a HeartCARE Center.
A HeartCARE Center Recognition Program Champion Story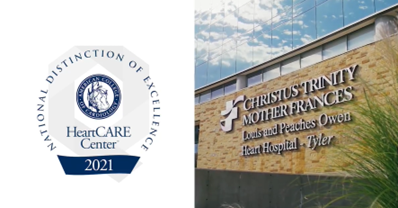 CHRISTUS Trinity Mother Frances - Louis & Peaches Owen Heart Hospital, based in Tyler, TX, was the first hospital that was awarded the HeartCARE Center Recognition and they continue to maintain this National Distinction of Excellence.
The following testimonial from the Chief of Cardiology and the Clinical Director highlights the steps that CHRISTUS Trinity Mother Frances - Louis & Peaches Owen Heart Hospital took to achieve this honor and how they used it to showcase to their community and patients their commitment to successful outcomes and quality patient care.
Watch Video
Recognition That's Attainable and Relevant
If you've already earned at least two CV accreditations from ACC, you are well on your way to becoming an ACC HeartCARE Center. The structure of this annual recognition program is founded upon two earned accreditations and includes additional components that are designed to benchmark your CV practices, enhance CV patient care and outcomes, and confirm your commitment to ongoing professional excellence.
Becoming an ACC HeartCARE Center is achievable and validates the significant steps you take to deliver exceptional care with repeatable success. Want to learn more? Contact us to discuss the eligibility components of this important distinction. Call us now at 800-257-4739 or click the blue button to send us an email inquiry.
Contact Me to Discuss the HeartCARE Center Program
Consider the Fast Track
You might be closer than you imagine to achieving the HeartCARE Center designation. Ask us which combination of essential program requirements will fast track your path to national recognition.
Recognition for Facilities Located Outside the United States of America
Facilities located outside of the United States are eligible to achieve ACC's International Centers of Excellence designation in lieu of the HeartCARE Center award. Ask us how an ACC Accreditation can help you achieve this significant recognition.