Participant Testimonials
With more than 1,000 hospital accreditations granted, our reputation has grown among the leaders in the fields of emergency medicine and cardiology. Together, we are creating communities of excellence that operationalize the science of cardiovascular medicine.
Because Every Heart Matters™ we are happy to share both success stories and a few brief "real-life" reports that resonate with our cardiovascular community.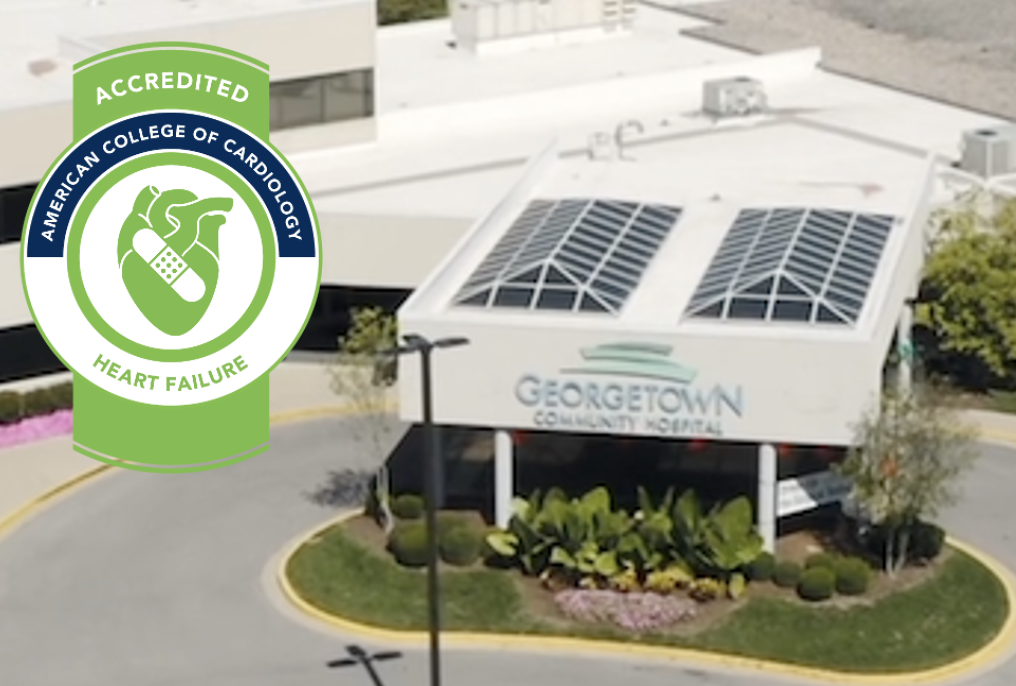 Georgetown Community Hospital's Cardiovascular Accreditation Coordinator, Director of Cardiovascular Services & Accreditation, and Heart Failure Medical Director explain why they depend upon ACC's Heart Failure Accreditation program to help them meet their community's health care needs.
Georgetown Community Hospital is located in Georgetown, KY.
Watch Now
---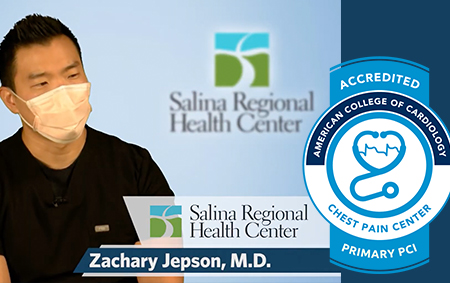 In this very brief YouTube video, Dr. Zachary Jepson discusses how Chest Pain Center Accreditation with Primary PCI helped the medical professionals associated with Salina Regional Health Center better serve their Kansas community.
Watch Now
More Video Testimonials and Acknowledgements
Clincians and patients have wonderful things to say about ACC Accreditations and treatment received at accredited facilities.
Chest Pain Center Accreditation
La Porte Hospital, La Porte, IN, is an ACC Chest Pain Center Accredited facility. Regional Director of Cardiovascular Services Chris Atherton shares her experience. View Now >
Lawrence General Hospital, Lawrence, MA, is an ACC Chest Pain Center Accredited facility. One of their patient's shares his care experience at this accredited facility. View Now >

Union General Hospital, Blairsville, GA, is an ACC Chest Pain Center Accredited facility. Katherine Duello, MD, explains what to do if you have chest discomfort and provides more information about the facility's Accredited Chest Pain Center. View Now >
Christus St. Michael Health System, Texarkana, TX, is an ACC Chest Pain Center Accredited facility. NBC affiliate KTAL 6 News features the accreditation earned by Christus St. Michael. View Now >
Transcatheter Valve Certification
North Florida Regional Medical Center
, Gainesville, FL, has earned ACC's Transcatheter Valve Certification. Charles Klodell, MD, with Florida Lung and Heart Institute, discusses how programs achieving ACC's certification are receiving top tier patient care.
View Now >

Spectrum Health, Grand Rapids MI, has also earned ACC's Transcatheter Valve Certification. The facility's achievement was featured in a "Good to Go" television interview on Grand Rapids ABC Affiliate 13 On Your Side. View Now >
Cardiac Cath Lab Accreditation
St. Elizabeth Medical Center, Utica NY, has earned ACC's Cardiac Cath Lab Accreditation. The facility's achievement was featured in a television interview with Nurse Manager Tanya Bristol on NBC Affiliate WKTV News Channel 2. View Now >

"What we found was that we were able to take very complex guidelines and data and a very fragmented team and a bunch of pieces of paper and transition those to characteristics of our everyday existence. We've gone from a very complex, confusing maze to clear pathways for success. We now have that multi-disciplinary team that utilizes evidence-based processes to develop care and provide care as well as better quality metrics reflecting the results of that care."

Leesa Wright, RN, CVI Outreach Coordinator at Methodist University Hospital, Memphis, TN
---
Through pursuing Chest Pain Accreditation, we are always in the process of continual improvement and ongoing evaluation of our clinical practices to better serve our community.

Maria Wleklinski, Chief Nursing Officer, Siloam Springs Regional Hospital, Siloam Springs, AR
The ACC represents the highest goals of clinical excellence, continuing education and constant improvement in heart care.

C. Fagg Sanford, MD, FACC, Chief of Cardiology at the CHRISTUS Trinity Mother Frances Louis and Peaches Owen Heart Hospital - Tyler (Tyler, TX)
---
Our surveyor was ALWAYS available and answered any questions promptly. Our Administration team and physicians committed that our surveyor was one of the BEST we have ever had visit our hospital. She was professional, knowledgeable, asked probing questions that were very relevant to the task at hand. We were all very impressed with the whole experience, especially the Surveyor.

E. Michael Avaritt, Cardiovascular Quality Outcomes Manager, Our Lady of the Lake Regional Medical Center, Baton Rouge, LA
Our monthly calls were very informative. The assigned accreditation review specialist responded to questions quickly and assisted with some examples when asked. Her knowledge regarding all of the standards and the benchmarks of cardiac care was outstanding. I believe our patients have benefited from improved care and outcomes due to our involvement in the Chest Pain Center accreditation.

Carla Hobbs, Chief Quality Officer, AllianceHealth Ponca City, OK
---
The assigned accreditation review specialist was an integral part of our accreditation survey process. She provided support and insight into opportunities for process improvement and guidelines for success. May thanks to her and her encouragement throughout the survey preparation. The chart review prior to the survey was valuable to the team prior to the survey and for opportunities to improve documentation and education for our patients.

Cathy Sperry, Manager Cardiovascular Services, Self Regional Healthcare, Greenwood, SC
I really enjoyed the workshops. They provided excellent information to get started in the tool and a good resource while working through the elements. The monthly calls with the assigned accreditation review specialist provided a scheduled time to ask questions. The customer service was very timely in responding to any tickets that I had to put in. The assigned accreditation review specialist was able to offer valuable insight to our administrative team as well as the other participants in the survey. The video review was concise and to the point of the information that needed to be addressed.

Susan Hanson, RN, Gulf Coast Regional Medical Center, Panama City, FL
---
I just want to say how impressed I was with the assistance and encouragement given by our accreditation navigator. She was amazing! She was there at every step of the process to give feedback clearly defines the importance of heart failure patients in the CMS reimbursement paradigm for the executive team.

Niki Mclamb-Doanes, RN, CCCC, CV Accreditation Coordinator, Piedmont Henry Hospital, Stockbridge, Georgia
When I took over the process, I felt overwhelmed, but then our assigned accreditation review specialist was there for the rescue. She is an amazing mentor, she is patient, supportive, has tremendous knowledge. The educational approach and the nonjudgmental advice was a great help. I could not have done it without her help.

Nedal Alqalqili, Risk Manager, Barstow Community Hospital, Barstow, CA
The EP Accreditation from the ACC was important to our physi­cians, nurses, and staff, because it demonstrates our dedication to pro­viding state-of-the-art EP care to our patients.

F. Kevin Hackett, MD, FACC, physician chair of the Mount Carmel Heart and Vascular Center, Columbus, OH
Accreditation has become a vehicle that's fostered stronger inter- and intra-department communication and collaboration around a common project.

Frederic S. Resnic, MD, MSc, FACC, Chair, Division of Cardiovascular Medicine, Lahey Hospital and Medical Center, Burlington, MA
The accreditation team was fabulous! They were very helpful every step of the way and were eager to offer suggestions on ways to improve patient care. Thank you!!

Cheryl Bailey, Executive Director, Cullman Regional, Cullman, Alabama
Chest Pain Accreditation is a great way for community hospitals to validate evidenced based practices or assist in initiating those best practices if they are not currently present.

Daniel Sutton, BS, MPA, RRT Regional VP CV Services Hillcrest Hospital, Mayfield Heights, Ohio
Joining the ACC to further advance our Heart Failure program has been a wonderful experience. The ACC's accreditation review specialists are extremely knowledgeable and articulate in helping guide your facility through the accreditation process. More importantly they work with you to find ways to make process change easy for all staff to accomplish.

Kristi Ramsey, RN, Sheridan Memorial Hospital, Sheridan, WY
You cannot imagine what this goal means to me, personally. I love my facility. Being a nurse has always been my passion and heart — how I enter a room, so to speak. I want our patients to have the safest environment to come to and the best possible outcomes. I want everyone in our community to know that our little facility can care for hearts in a BIG way.

Trish Jankowski, Clinical Nurse Educator, Chest Pain Coordinator, Mimbres Memorial Hospital, Deming, New Mexico