Unify Your Approach to Accreditation
Hospitals that are aligned with larger systems of care benefit from the whole team approach to Accreditation:
Break down silos, streamline cross-departmental processes and create a team approach to treatment
Establish system's commitment to higher standards and gives each participating facility a competitive edge
Increase collaboration and provide processes for jointly tackling variations of care across the system
Provide greater insight into collection of metrics to ensure that processes meet the system's quality and cost-of-care goals
Foster a culture of cooperation and guide prioritization of compliance effort across the system
Identify innovative operational approaches, ways to pinpoint gaps, measure results, and revise current processes
Demonstrate the system's commitment and dedication to exceptional cardiac care to the broader regional community
Reduce liability by using a consistent risk stratification approach for patient care based on research and best practices
Add Analytics to the Mix
Hospital systems participating in any of ACC's NCDR Registries may also be very interested in the multi-hospital view into the quality of CV care provided by their facilities. Learn more about NCDR eReports™ and how your system can measure, monitor, and assess the performance of select hospitals through the use of ACC's business intelligence data reports.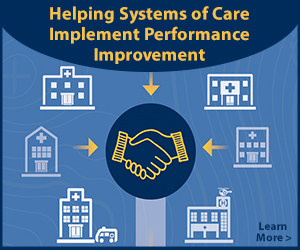 Elevate the Power of System-Wide Accreditation.
Learn more about System-Wide Accreditation.
Ask us about the exclusive training platform and pricing discounts available for system-wide accreditation programs.
---
Accreditation has become a vehicle that's fostered stronger inter- and intra-department communication and collaboration around a common project.

Frederic S. Resnic, MD, MSc, FACC, Chair, Division of Cardiovascular Medicine, Lahey Hospital and Medical Center, Burlington, MA
---
Showcase the Collaboration Between Your Facility and an EMS Agency
ACC's Emergency Medical Services (EMS) Partner in Care Recognition is designed to highlight EMS agencies that have a partnership with a facility that has an ACC Chest Pain Center Accreditation or Certification, or an ACC Heart Failure Accreditation. Participating facilities build robust, ongoing relationships with their local and regional EMS partners to ensure the highest level of care for patients who may be experiencing a heart attack. Read the EMS Partner in Care Recognition FAQs to find out more.