ACC's external review and certification process helps Structural Heart Programs build and maintain a foundational platform for integrating emerging transcatheter valve devices and therapies.
Transcatheter Valve CertificationTM
Certification focuses on the essential quality components pertaining to transcatheter valve aortic replacement procedures (TAVR) and now includes requirements for mitral valve transcatheter edge-to-edge repair (TEER) procedures. It provides a framework to ensure hospitals are meeting high quality standards for transcatheter multidisciplinary heart teams, formalized training, and shared decision-making. Moreover, it employs the facility's heavily invested transcatheter and surgical valve data collection efforts and performance metrics to influence clinical decisions and address quality improvement opportunities.
Participation in the STS/ACC TVT Registry™ aides the data reporting requirement for Transcatheter Valve Certification.

Purchase or Renew Transcatheter Valve Certification
---
Hear What Other Clinicians Think About Certification
North Florida Regional Medical Center
, Gainesville, FL, has earned ACC's Transcatheter Valve Certification. Charles Klodell, MD, with Florida Lung and Heart Institute, discusses how programs achieving ACC's certification are receiving top tier patient care.
View Now >

Spectrum Health, Grand Rapids MI, has also earned ACC's Transcatheter Valve Certification. The facility's achievement was featured in a "Good to Go" television interview on Grand Rapids ABC Affiliate 13 On Your Side. View Now >
---
A Participant's Perspective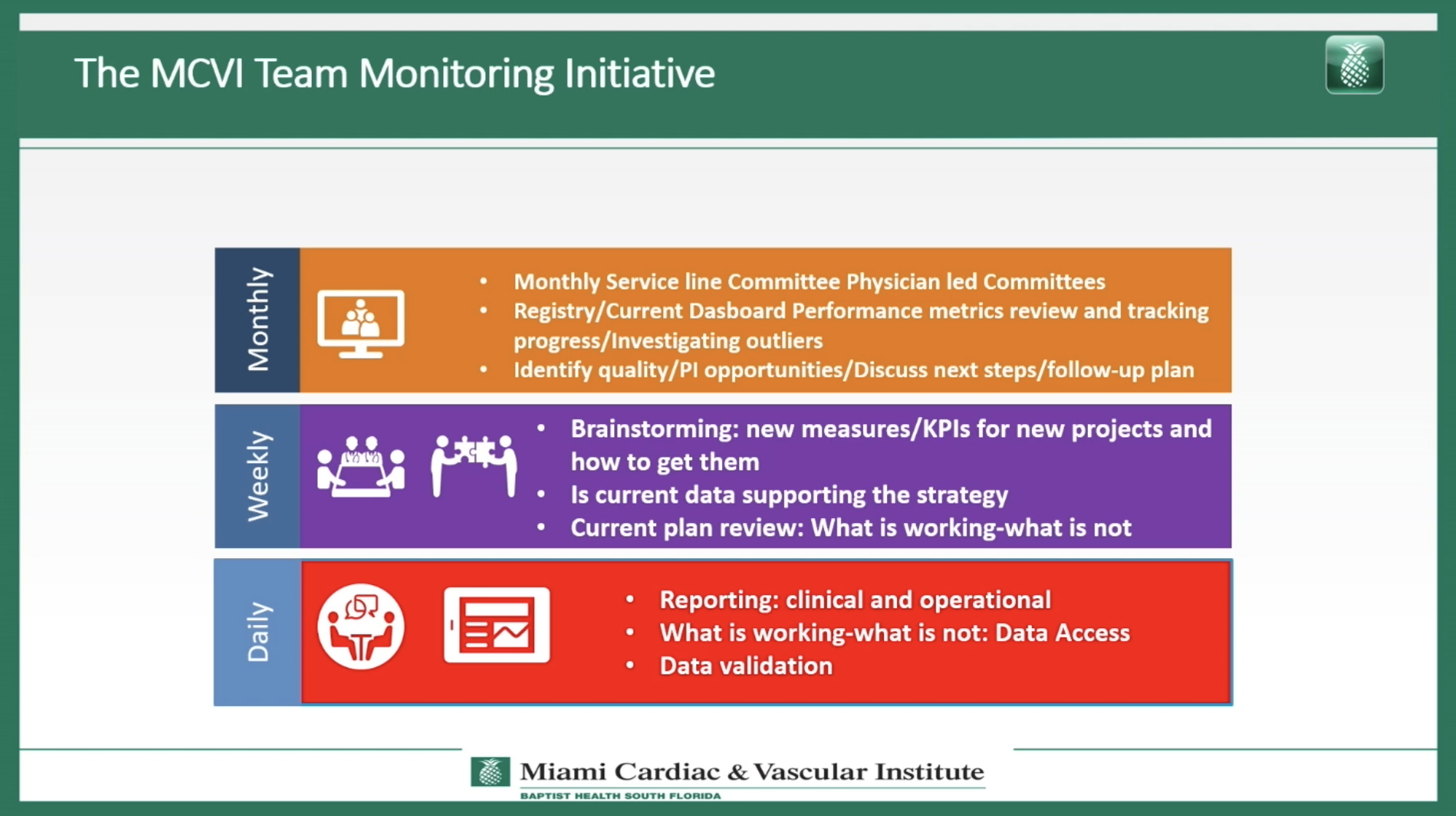 View Now!
Measuring Quality and Monitoring Progress with Procedural Accreditations
Presenter: Andrea Marr-Peralto, Assistant Vice President, Miami Cardiac & Vascular Institute - Baptist Health South Florida
What's Covered: How data collection aligns with achieving quality outcomes and operational efficiency
Note: This video is an excerpt of a presentation delivered at ACC Quality Summit 2021
Want to learn more about the benefits of Transcatheter Valve Certification? Our service line specialists have
recorded informational webinars
that provide an overview of key topics and explain how your steps toward process improvement can provide valuable insight into the performance and management of a goal-driven CV service line.
Transcatheter Valve Certification combines quality initiatives, current guidelines, and clinical best-practices to produce a holistic approach to the care of patients requiring heart valve repair or replacement therapies. The certification process provides the infrastructure to grow and expand the portfolio of services offered by your Structural Heart Program.
Each facility that begins Transcatheter Valve Certification is assigned an expert navigator to assist them along the certification journey. ACC's Accreditation Review Specialists are highly dedicated clinicians with real-world experience treating cardiovascular (CV) patients in the hospital setting. Individually and collectively, they are an indispensable resource for those who are committed to implementing the essential elements of quality improvement.
Certification training prepares facilities to begin their process improvement journey. Each ACC Certification includes comprehensive education to orient your staff to the fundamental elements of the certification process.
Note: The Certification purchase process (including ACC business agreement and payment for initial year of Certification participation or recurring annual payment) must be completed in order to gain access to the Certification tool and related training. Please contact accreditationinfo@acc.org for more information.
Clinical Topic Collections, Toolkits and Quality Campaigns
ACC.org Clinical Topic Collections
JACC
The American College of Cardiology publishes several highly-regarded journals, including the JACC Interventions and JACC Cardiovascular Imaging. Some of the tools and features of the JACC publications are only available to subscribers or users with an online account.
CardioSmart
CardioSmart is the patient education and empowerment initiative developed by the American College of Cardiology. Included on the web site are great tools for clinicians as well as caregivers and CV patients who want to better understand how to prevent, treat and manage cardiovascular disease.