NCDR eReports Corporate
Designed specifically for private insurers, healthcare consulting companies and other healthcare business groups, NCDR eReports Corporate provides a multi-hospital view into the quality of cardiovascular care. Users can easily tailor the tool to define groups of hospitals, choose quality measures of interest and select their preferred data format. Data are automatically aggregated, refreshed week and easily exported.
Features and Benefits:
Harness the power of the cardiovascular industry's most comprehensive data registry
Inform value-based strategies with robust information on inpatient procedures and outcomes
Choose metrics of interest from among hundreds within NCDR
Customize groups of hospitals within your network to define specific markets
Visualize results and drill down to view hospital-level data
Pair clinical outcomes with your own data such as claims
Trust in data verified by multiple levels of validation and auditing
Learn More
Explore how NCDR eReports Corporate can take your strategies to the next level, please contact us at NCDRCorpSolutions@acc.org.
---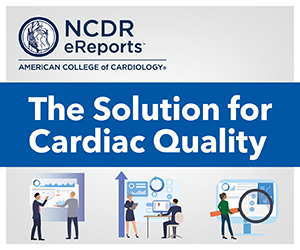 Learn More