NCDR eReports EMS
This new reporting product provides EMS agencies with information from the Chest Pain - MI Registry on the care and outcomes of their AMI patients. Using their EMS agency's state ID number, EMS agencies can assess their own performance along with the receiving hospital and their combined efforts as a system of care.
Features and Benefits:
Ability to generate reports across all of the EMS agency's destination hospitals that are participating in the CHEST PAIN - MI Registry.
See local data compared to national aggregate values
Snapshot or time series views
EMS and system of care performance metrics, including:

STEMI (pre-admit) Symptoms to Arrival
STEMI (pre-admit) Time to First ECG
STEMI ECG Pre-Hospital (ECG to treatment)
STEMI (pre-admit) Time to Treatment
STEMI (pre-admit) Total Ischemia Time (available as a separate report)
STEMI (transferred in) Time to Treatment

Weekly data refresh
---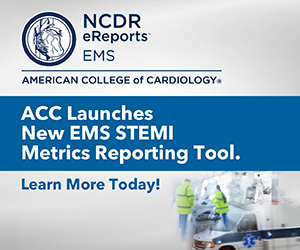 Learn More
Resources
Webinar Series: EMS and Systems of Care Webinar Series – Taking Clinical Quality to the Next Level - Free webinar series to help EMS agencies, systems of care consortia (e.g., for STEMI, stroke, cardiac arrest, trauma, sepsis) and hospitals take fresh look their approaches to quality improvement and consider ways to elevate their impact and efficiency.