The Quality Payment Program (QPP), created under the Medicare Access and CHIP Reauthorization Act of 2015, establishes new ways to reimburse clinicians who treat Medicare patients, based on value rather than volume. Hospitals and affiliated cardiovascular professionals participating in ACC's NCDR registries can take advantage of several tools and offerings to help meet QPP requirements.
Don't MIPS Out!
The ACC's Patient Navigator Program: Focus MI, Reduce the Risk: PCI Bleed and Clinical Quality Coach App count as Improvement Activities under the Merit-Based Incentive Payment System (MIPS) – one of two ways clinicians can participate in the QPP. In addition, clinicians affiliated with hospitals participating in ACC's CathPCI Registry or Chest Pain – MI Registry may be eligible to earn MIPS Improvement Activity credit if the facility submits COVID-19 data for patients in these registries. You can claim a Quality Campaign Participation Certificate by taking ACC's MIPS survey. Learn more.
The ACC and Veradigm's PINNACLE Registry® and Diabetes Collaborative Registry® have been approved as a single Qualified Clinical Data Registry (QCDR) for the 2020 MIPS Program Year, offering participating practices a free and easy solution to report MIPS data in 2020. Practices currently submitting data via the PINNACLE Registry and/or the Diabetes Collaborative Registry can choose to have the registries submit MIPS data to CMS on their behalf for free.
2020 MIPS Performance Year
*Note: CMS is supporting clinicians treating COVID-19 on the front lines by "implementing additional extreme and uncontrollable circumstances policy exceptions and extensions" on reporting and data submission deadlines associated with MIPS. Learn more on ACC.org. Read more from CMS.
The 2020 MIPS performance year started Jan. 1, 2020, and ends on Dec. 31, 2020. Eligible clinicians are required to submit a full year of data on Quality measures and at minimum 90 continuous days of data for Promoting Interoperability and Improvement Activities. Health care providers will begin to receive payment adjustments in the form of incentives or penalties in 2022 for the 2020 MIPS program year. Not participating in MIPS in 2020 will result in an automatic payment adjustment of negative 9 percent in 2022.
In 2020, four categories will contribute to the overall MIPS Performance Score: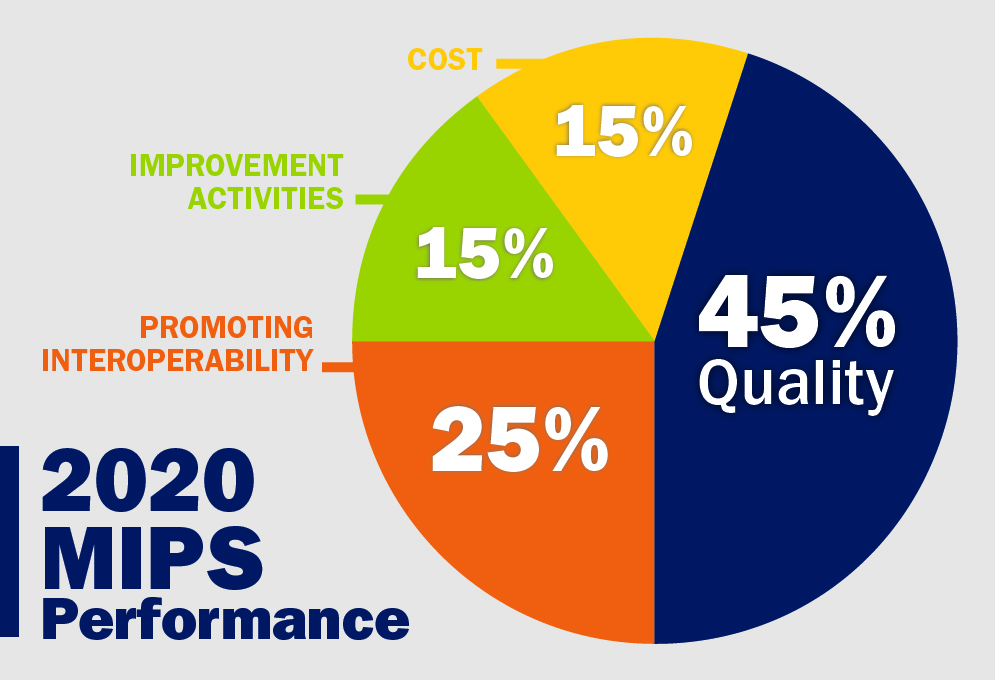 The Quality component accounts for 45 percent

Providers are responsible for reporting six measures, including one outcome measure or high-priority measure if outcome measure is not available.
Performance data is required for 70% of patients who qualify for the measures selected.
All eligible providers will be required to report a full year of data.

Improvement Activities accounts for 15 percent

All eligible providers will be required to report for a minimum of 90 consecutive days.
Update for 2020: Participants reporting as GROUP can attest to an activity if at least 50% of the clinicians in the group perform the same activity consistently for the 90-day period.

Promoting Interoperability accounts for 25 percent

All eligible providers will be required to report for a minimum of 90 consecutive days.

Cost category accounts for 15 percent
CMS will automatically calculate the performance score for Cost based on Medicare claims data. There is no additional work required from eligible clinicians.
Click here to view the QPP Year Three Program change highlights.
How to Prepare for MACRA