Performance Achievement Awards

The Chest Pain – MI Registry™ Performance Achievement Award program recognizes hospitals participating in the registry who have demonstrated sustained, top level performance in quality of care and adherence to guideline recommendations. Through full participation in the registry, hospitals engage in a robust quality improvement process, using data to drive improvements and positively impact patient outcomes for heart attack patients.
Overview of 2020
The Performance Achievement Award Program for 2020 considers the performance of hospitals in the Chest Pain – Registry during 2019 and 2018. This cycle includes the implementation of a new data set, Version 3, and aligns with the updated performance measure for STEMI and NSTEMI.
Eligibility Requirements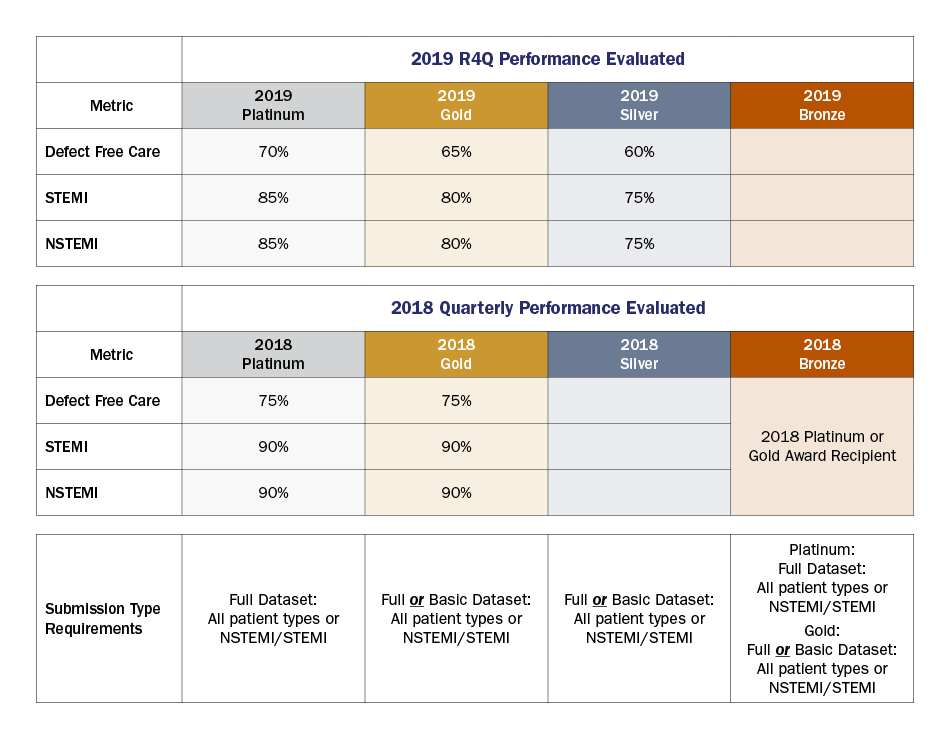 These individual Performance Measures are evaluated to determine your hospital's compliance score:
STEMI & NSTEMI Performance Measures*
Defect Free Care Measure

ASA at Arrival
DTN<=30 minutes (STEMI only)
FMC to device <=90min (STEMI only)
Discharge Aspirin
Discharge beta-blocker
Discharge ACE-I/ ARB
Discharge high-intensity statin
Cardiac rehabilitation
Reperfusion Therapy (STEMI only)
Evaluation of LV Systolic Function
Discharge P2Y12

Immediate angio after cardiac arrest (STEMI only)

National Quality Forum (NQF) endorsed measure
Proportion of patients receiving all performance measure opportunities forwhich they are eligible
2019 Award Winners
View a list of the 2019 Performance Achievement Award recipients.
This year's Platinum, Gold and Silver Award recipients are recognized for their consistency in meeting patient care guidelines for AMI patients. Hospitals that received a 2019 Performance Achievement Award are featured in the special U.S. News and World Report "Best Hospitals" issue.
CardioSmart Hospital Profile
All NCDR participating hospitals can see their hospital profile on Find Your Heart a Home. Patients and caregivers use this website to compare hospitals that are affiliated with the American College of Cardiology. Hospitals that receive the Performance Achievement Award will see their level displayed on this site under their hospital profile.