Learn More about the ACPC Quality Network
Adult Congenital & Pediatric Quality Network
Collaborate on a National Level
The American College of Cardiology's Adult Congenital & Pediatric Cardiology Quality Network™ is a national network of congenital heart disease (CHD) centers dedicated to collecting and sharing data, collaborating, and developing best practices for your CHD patients. The network welcomes small practices, hospitals and health systems to enroll. Your participation in the network is crucial to building an effective data set that will drive quality improvement and advance the development and delivery of adult CHD and pediatric cardiology standards of care. Click here to request enrollment materials.
Benefits of participating in the Adult Congenital & Pediatric Cardiology Quality Network include:
Data collection through a standardized data collection tool – tracking a variety of quality metrics in the inpatient and outpatient settings
Performance reports providing a quarterly view of your performance compared to other participating CHD centers
Continuous updates on metric specifications and data collection as new quality metrics are added or modified
Ongoing knowledge sharing and networking via webinars and learning sessions
Ability to earn Maintenance of Certification (MOC) Part IV credit
Quality Metrics
Participating facilities have the opportunity to collect quality metric data across a wide range of clinical areas pertinent to the management of adult CHD and pediatric patients. Facilities report only the quality metrics relevant to their patient population. View current quality metrics.
Quality Network Participation Information
Earn MOC Part IV Credit
Participating physicians are able to participate in quality improvement activities and earn MOC Part IV.
Submit Your Electronic Attestation Here.
Click here to learn more.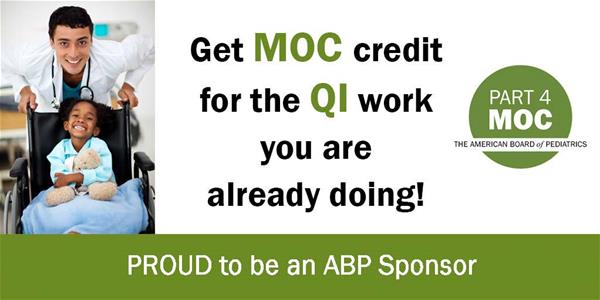 Current Participants
View list of Adult Congenital & Pediatric Cardiology Quality Network participants.
Developed by Your CHD Colleagues
Building on the work of the ACC's Adult Congenital and Pediatric Cardiology Quality Workgroup to develop quality metrics across several domains in pediatric cardiology and adult CHD, the Quality Network provides a national mechanism for current and anticipated metrics that will be used for collaborative clinical quality improvement. For details on the metric development and review process, visit ACC.org/acpcqualitymetrics.
If you have questions, please contact us at acpcqnet@acc.org or 800-257-4737.