Chest Pain Center Accreditation Designations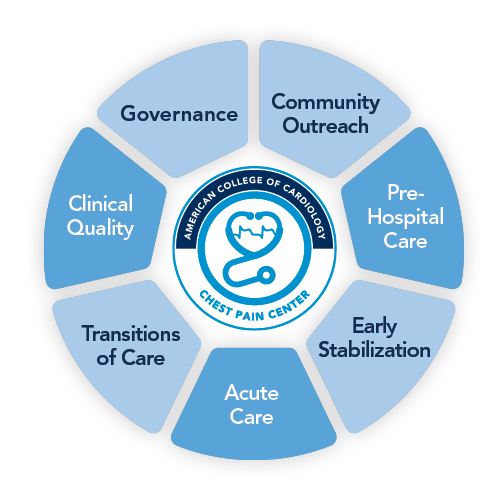 There are three types of designations for Chest Pain Center v6 Accreditation each based on a facility's STEMI treatment capabilities and strategies. The requirements for each of the three designations are as follows:
Chest Pain Center
This designation is for those facilities that do not have 24/7 primary PCI coverage every day of the year. Facilities with this designation will have a robust detailed transfer (referral) protocol in place which addresses transfer procedures and/or potential fibrinolytic therapy if the expected First Medical Contact (FMC) to intervention time will exceed 120 minutes.
Chest Pain Center with Primary PCI
Hospitals awarded this designation have Primary PCI available 24/7 every day of the year. This means they have a call team made up of the cardiac catheterization (cath) lab staff and an interventional cardiologist who arrive to the facility within 30 minutes of STEMI activation. These facilities have formal agreements with the facilities that regularly refer STEMI patients for primary PCI.
Chest Pain Center with Primary PCI and Resuscitation
Hospitals that receive this designation must meet all requirements of the CPC with Primary PCI designation and will be equipped with a robust target temperature management (TTM) program which includes policies, procedures, and protocols for post–cardiac arrest treatment. These facilities must also maintain a "No Diversion Policy" for out-of-hospital cardiac arrest patients. This designation also requires formation of a multidisciplinary Resuscitation Committee.