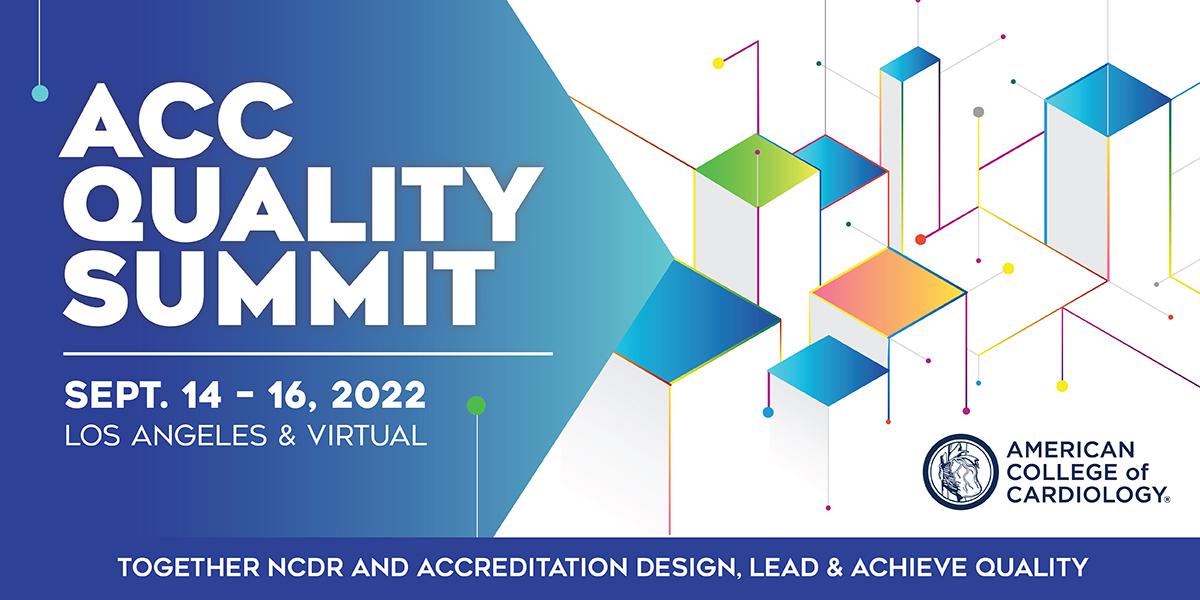 Program Information
Statement of Need
The ACC Quality Summit provides attendees with NCDR registry-specific and hospital industry knowledge, plus a deeper understanding of the value of accreditation and ways patient data can drive process improvement initiatives. Attendees will take away best practices through networking, workshops, ePosters, and on demand content and discover tools and techniques to improve health care quality within their organizations.
At ACC's Quality Summit attendees will gain insights and inspiration from foremost cardiovascular leaders and experts, and you will be part of a network committed to providing optimized cardiovascular patient care.
This year's ACC Quality Summit channels will focus on:
Present and Future direction of NCDR and Accreditation
Best practices in cardiovascular care
Leadership roles in quality improvement
Measuring success to improve patient outcomes
Overall Goal
The overall goal of the Quality Summit is to enhance the knowledge and competency of NCDR and Accreditation professionals to enable them to effectively translate data and quality programs into achieving quality care. Together NCDR and Accreditation "Design, Lead, and Achieve" quality.
Learner Objectives
The ACC Quality Summit draws a diverse group of healthcare professionals such as:
Describe the present state and future direction of NCDR and Accreditation Services in improving patient care and quality outcomes.
Compare and contrast quality improvement practices and tools and their appropriate use in cardiovascular care.
Explore the role of leadership in setting the quality agenda.
Identify ways organizations measure their success in continuous quality improvement.
Target Audience
The ACC Quality Summit draws a diverse group of healthcare professionals such as:
Cardiovascular Administrators and leaders seeking innovating solutions to improve service line processes of care.
Quality improvement professionals who lead organizational performance improvement efforts.
Hospital administrators who want to learn how the NCDR Registry/Accreditation can support their strategic goals.
NCDR Registry/Accreditation sites managers and data coordinators interested in data integrity and quality.
---