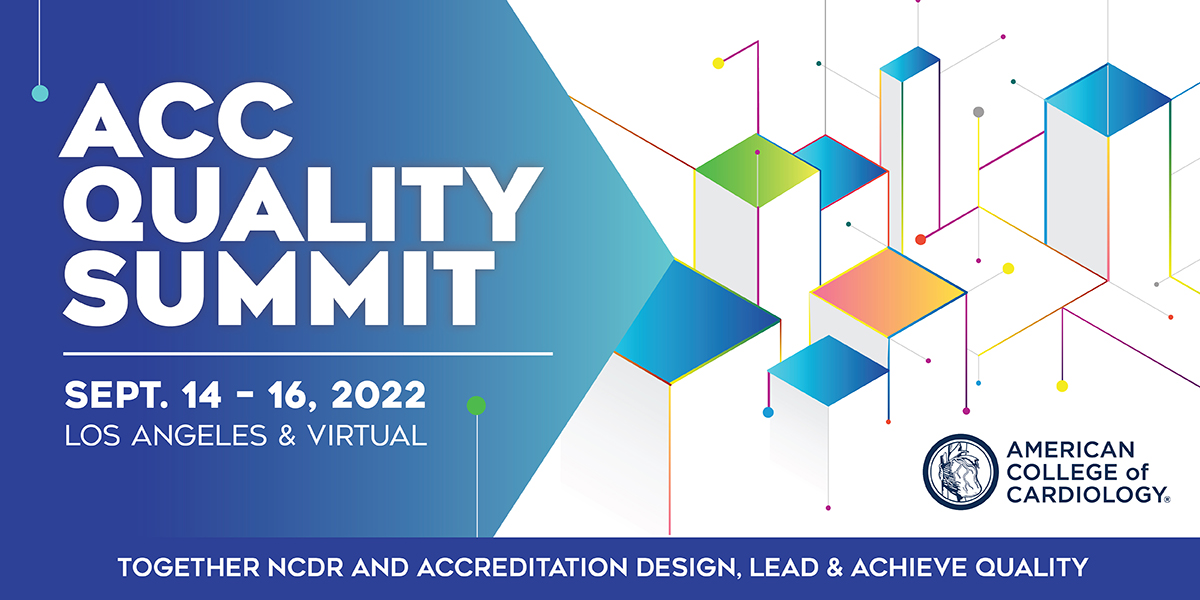 Submit Your ACC Quality Summit Abstracts Today!
The On Demand Abstract Submission Deadline has been extended to May 16!
Don't miss out on an opportunity to submit your abstract to be considered for a 15–30 minute On Demand Session!
Showcase how you use NCDR and Accreditation Services data to improve patient care, processes, and quality initiatives! Each year the ACC Quality Summit provides the opportunity for participants to learn from ACC staff and physician leaders — and your peers. This is your opportunity to share your successes and learn from each other!
Describe your experiences in the format of an abstract and submit them to us for consideration as an ePoster or oral presentation at the ACC Quality Summit, taking place Sept. 14 – 16, 2022. Last year we had over 90 posters and this year we are expecting more!
We invite submissions from ALL members of the cardiovascular and quality team!
Your Abstract Journey
Once you submit your abstract it will be reviewed by a team of topic specific experts, and if approved we'll select it for an On Demand Session or ePoster.
Abstracts approved for On Demand Sessions will be developed into a 15 - 30 minute video presentation to be recorded in the Cadmium system by the presenting author. One abstract will be selected per NCDR or Accreditation program for an On Demand Session.
All approved ePosters will be displayed in the Virtual Platform. The top twenty-five ePosters determined by the expert abstract reviewers will be highlighted in-person in the Summit Showcase Poster Hall. The six highest ranking abstracts will be invited to present their ePosters in-person and share their successful project.
We welcome submissions that describe innovative educational experiences, data collection processes, quality initiatives or research activities that take place in your institution and improve the care; or services you provide to your cardiovascular patients.
You may submit more than one abstract and may include portions of prior abstracts and/or manuscripts submitted or presented elsewhere if you have obtained appropriate copyright permissions.
Focus Areas Include:
Quality Improvement
Leading Quality Initiatives
Enhancing Data Collection and Submission
Population Health Management
Important Deadlines
On Demand Abstract Submission deadline is 11:59 p.m. ET on Monday, May 16, 2022.
ePoster Abstract Submission deadline is 11:59 p.m. ET on Thursday, June 9, 2022.
Need Help on How to Develop an Abstract or Poster?
Target Audience:
The ACC Quality Summit draws a diverse group of healthcare professionals such as:
Cardiovascular Administrators and leaders seeking innovating solutions to improve service line processes of care.
Quality improvement professionals who lead organizational performance improvement efforts.
Hospital administrators who want to learn how the NCDR Registry/Accreditation can support their strategic goals.
NCDR Registry/Accreditation sites managers and data coordinators interested in data integrity and quality.
Want to Be a Part of the ePoster Abstract Review Process?
Be part of the team! Volunteer today to review ePoster abstract submissions. All career levels are encouraged to participate as we anticipate an increased number of submissions this year!
ePoster Abstract Reviewers will need to be available June 16-30, 2022 to review a maximum of 10 ePoster abstracts.
Applications to review abstracts must be completed by 11:59 PM EST Wednesday, June 1, 2022.
Share the Opportunity!
Email or print the flier below and share the opportunity with your colleagues!
Questions?
If you have any questions or need assistance, please email ncdr@acc.org or contact Madeline Tappe, Quality Summit Abstract and Poster Manager, at mtappe@acc.org with the subject line titled "ACC Quality Summit Posters".